DISNEY WHERE'S MY WATER? PRESENTS: SWAMPY'S UNDERGROUND ADVENTURES
LAUNCHES TODAY ON DISNEY.COM AND DISNEY'S YOUTUBE CHANNEL
New short form animated series stars Swampy the alligator
from Disney's #1 new mobile game Where's My Water?
Series to premiere on Disney Channel beginning in November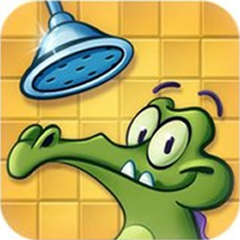 Disney Interactive announced today the online launch of the new short form animated video series, Disney Where's My Water? Presents: Swampy's Underground Adventures on Disney.com and Disney's YouTube channel at YouTube.com/DisneyShows, with plans to premiere the short form series on Disney Channel beginning in November. Swampy's Underground Adventures follows the hilarious and unpredictable adventures of Swampy, Disney's first original character born on mobile and star of Disney's #1 new mobile franchise Where's My Water?. The series also marks the first production from Disney Interactive's collaboration with YouTube to bring original family-friendly video series to the web.
Swampy's Underground Adventures consists of 12 episodes that will launch weekly, and treats viewers to original storylines around the imaginative and curious alligator, Swampy, in his quest of acceptance, friendship, and his adventures outside of the bathtub. In the premiere episode, "Meet Swampy," our star gets into mischief by mistaking a fire extinguisher for a rocket pack while trying to show off for his friend, Allie. But when he loses control and starts pin balling around the sewer, his super-heroics blow up in his face.
"Swampy's rise to stardom began on the App Store and now we're extending his story to online video and linear television," said Mark L. Walker, senior vice president of Disney Interactive Entertainment. "With Swampy's Underground Adventures we're able to offer fans of Where's My Water? a fun new look at the humor and personality behind Swampy and his friends."
To support the launch of Swampy'sUnderground Adventures, Disney is planning to showcase episodes of the new Where's My Water?series on in-store video screens in 175 Disney Stores across the U.S. on Saturday, October 20th. The promotional campaign will also include special Where's My Water? giveaways such as activity sheets and stickers, in addition to a Swampy plush toy raffle for one lucky guest in attendance at each location.
What: Where's My Water? themed in-store event
When: Saturday, October 20, 2012 from 10am-12:30pm
Where: Disney Store near you
*Families who dive into participating stores will get a sneak peek at two new Swampy's Underground Adventures episodes, receive free Swampy activity sticker sheets and have the chance to win a Swampy toy plush at 12:30 p.m.!